We stock thousands of different games and game accessories. Hundreds of board games like Settlers of Catan, Carcassone, Dominion, Ticket to Ride, and much more. Thousands of Magic: the Gathering singles along with current boosters. A huge selection of miniature games, Warhammer 40K, Star Wars, Flames of War, Bolt Action, Malifaux, SAGA, Infinity, etc. Role-playing games like Dungeons and Dragons, Pathfinder, WH40K RPGS and small-press and indies. Gaming accessories like dice and tokens, paints, cards sleeves, gaming mats and more.
This list is a general stock list. Other manufactures and products are available.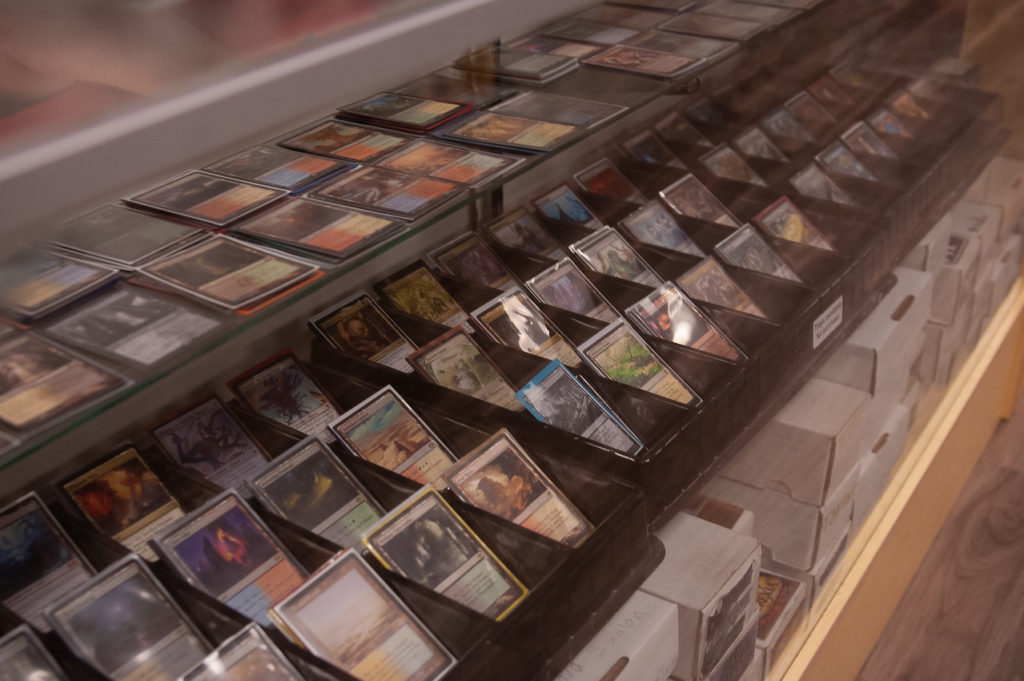 A
AK INTERACTIVE – Modeling Supplies
ALDERAC ENTERTAINMENT GROUP (AEG) –Smash-Up, Mystic Vale, T Captain is Dead, Tiny Towns
ARCANE TINMEN – Dragon Shields
ARMS KEEPER – Hobby Accessories
ARTIZAN DESIGNS – 28mm Miniatures
ASMADI GAMES – We Didn't Playtest This at All
ASMODEE EDITIONS – Dixit, Formula D
ATLAS GAMES – Once Upon A Time, Lunch Money, Gloom
ATOMIC MASS GAMES – Marvel Crisis Protocol, Star Wars Legion, Star Wars X-Wing, Star Wars Armada
B
BATTLEFRONT MINIATURES – Flames of War
BATTLEFOAM – Carry Cases
BEZIER GAMES – One Night, Castles of Mad King Ludwig
BROTHERWISE GAMES – Boss Monster
BULLY PULPIT GAMES – Fiasco RPG
C
CALLIOPE GAMES – Tsuro
CATALYST GAME LABS – Shadowrun RPG, Battletech
CHESSEX MANUFACTURING – Dice
COOLMINIORNOT – Zombicide
CUBICAL 7 – RPGs
CORVUS BELLI – Infinity
CRYPTOZOIC ENTERTAINMENT –DC Comics: Deckbuilding Game
CRYSTAL CASTE – Dice

D
DAYS OF WONDER – Ticket To Ride, Memoir 44, Shadows Over Camelot, Small World, Relic Runners
DV GIOCHI – Bang!
E
EVERGREEN PLASTICS – Plastic for Modelling and Terrain
EVIL HAT PRODUCTIONS – Fate RPG
EXCEL – Hobby tools
F
FANTASY FLIGHT GAMES –Star Wars X-wing, Cosmic Encounter, Civilization Descent, A Game of Thrones, The Lord of the Rings Star Wars RPG, Arkham Horror, Star Wars Armada, Star Wars Legion, Keyforge
FIREFORGE GAMES – Deus Vult Rulebook, 28mm miniatures
FRONTLINE GAMING – Miniature mats
G
GALE FORCE NINE – Firefly, Terrain
GAMES WORKSHOP – Age of Sigmar, Warhammer 40,000 (WH40K), LoTR, Necromunda, Kill Team
GMT GAMES – Wargames
GREATER THAN GAMES – Sentinels of the Multiverse
GREEN RONIN PUBLISHING – Dragon Age RPG, A Song of Ice and Fire RPG,
GREX– Air Brushes and Accessories
GRIPPING BEAST – SAGA, 28mm Miniatures
GUNDAM – Gundam Models
H
HABA USA – Children's Board Games
I
IELLO – King of Tokyo, King of New York
INDIE BOARDS & CARD – Flash Point Fire Rescue, Resistance
IRON WIND MEDALS – Battletech Miniatures

J
JTT TREES & SHRUBS – Modeling Supplies
JTP PLASTIC GALLERY – Modeling Supplies
K
KIDREALM – Castle Combat
KNIGHT MODELS – Batman Miniature Game, Harry Potter Miniature Game
KOPLOW GAMES – Dice

L
LEGION SUPPLIES – CCG Supplies, Card Sleeves
LOONEY LABS – Fluxx and other board games
M
MANTIC – Terrain
MAYDAY GAMES INC – CCG Supplies, Card Sleeves, Get Bit
MAYFAIR GAMES – Settlers of Catan
MICRO ART STUDIO – Bases, Accessories
MIG PRODUCTS – Painting supplies
MODIPHIUS – RPGs
MONGOOSE PUBLISHING – Traveller RPG, A Call to Arms: Star Fleet

N
NORTH STAR GAMES – Evolution
NORTH STAR MINIATURES – Oathmark, Frostgrave
O
OSPREY PUBLISHING – Bolt Action, Frostgrave
P
PAIZO PUBLISHING – Pathfinder RPG, Pathfinder Card Game, Starfinder RPG
PANDASOURUS GAMES – Board and Card Games
PEGASUS HOBBIES – Terrain
PERRY MINIATURES – 28mm Miniatures
POKEMON – CCG
PRIMAL HORIZON – Magnets
Q
Q-WORKSHOP – Dice
R
REAPER MINIATURES – Bones, Dark Heaven , Legends, Chronoscope
RENEGADE GAMES STUDIOS – Board Games
RIO GRANDE GAMES – Power Grid, Dominion
RUBICON MODELS – 28mm Historical
S
SCALE 75 – Paints
SECRET WEAPON MINIATURES – Accessories
SIRIUS DICE – Dice
SLUGFEST GAMES – Red Dragon Inn
STEVE JACKSON GAMES – Munchkin
STONE BLADE ENTERTAINMENT – Ascension
STONEMAIER GAMES – Scythe, Charterstone, Viticulture
T
TAMIYA – Modeling Supplies
TESTORS – Modeling Supplies
THE ARMY PAINTER – Paints, Tools, Scenic

U
ULTRA-PRO – Top Loaders, CCG Supplies – Sleeves, Play Mats, etc.
UPPER DECK – Legendary DBG: Marvel, CCG supplies

V
VALLEJO – Model Color, Game Color, Air, Effects
VICTRIX – Legendary DBG: Marvel, CCG supplies
W
WARLORD GAMES – Bolt Action, Hail Caesar, Black Powder, 28mm miniatures
WINSOR & NEWTON BRUSHESS – Artist Brushes
WIZARDS OF THE COAST – Magic: The Gathering (MTG), Dungeons and Dragons (D&D), Axis and Allies, Robo Rally, Risk, Betrayal At House On The Hill, AD&D
WIZKIDS/NECA – D&D miniatures, Games
WYRD MINIATURES – Malifaux

X
Y
Z
Z-MAN GAMES – Agricola, Tales of the Arabian Nights, Carcassonne, Pandemic
ZAP-A-GAP – Glues
4
4GROUND MINIATURES – Terrain
return