OUR COVID-19 RESPONSE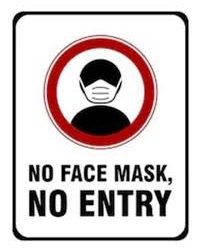 Modified Store Hours:
Monday – Friday: 12:00PM – 8:00PM
Saturday: 12:00PM – 8:00PM
Sunday: 12:00AM – 6:00PM
The following restrictions will be in place for everyone's safety:
A mask is REQUIRED to enter the store. NO MASK, no service, no exceptions.
A maximum of 6 customers will be permitted in the store at a time. A distance of 6 feet is expected to be maintained among customers in the store. We have markings on the floor to give you a general idea of the distance.
We will have markings outside the store indicating 6 feet of distance for the line to enter when the store is at capacity.
The store bathrooms will be closed off from the public for everyone's safety.
For those who do not wish to enter the store, we will be continuing our curbside pick up service.
The gaming halls will remain closed indefinitely at this time.
We will re-evaluate our guidelines when the State enters Phase 1. We thank you all for your continued support, and look forward to seeing your mask-obscured faces again soon!